Meet Dr. Rachel Smith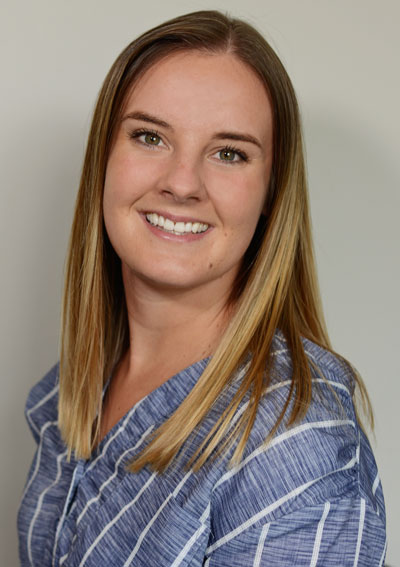 Rachel is a June 2021 graduate from Palmer College of Chiropractic in Davenport, Iowa, where she received the Academic Excellence award and was Valedictorian of her class. While at Palmer, she was involved in the Radiology Department and was an Anatomy tutor.
Before Palmer, Rachel attended the University of Wisconsin – La Crosse where she earned her Bachelors in Biology with a minor in Nutrition. While at La Crosse, she played soccer for the women's club team. Originally from Sheboygan, Rachel graduated from South High in 2012, after being involved in soccer, volleyball, and basketball, as well as National Honor Society, Student Council and the Rotary Club.
Outside the Office
In her free time, she enjoys working out, cooking, traveling, and exploring the outdoors with her fiancé and pet husky Maia. They especially enjoy spending time at Lake Michigan.
Offering a Varied Skill Set
Upon starting at Dirker Chiropractic, she will add a skill set of specific soft tissue treatment, the McKenzie low back pain management protocol, the Sacro-occipital technique, and the overall Palmer package skill set to help her future patients. She enjoys working with a wide age range of patients, especially the pediatric population and athletes. As a past athlete herself, she brings that knowledge and experience into the clinic, where she hopes to help her future patients be the healthiest version of themselves and reach their goals.
What got me into chiropractic?
I've always wanted to work in healthcare for as long as I can remember. In high school, I was a three-sport athlete and our school's AT/PT had a huge influence on me, especially after taking an independent study with them one semester. In undergrad, I was on the Pre-Physical Therapy tract, but the closer it got to applying to PT school I had lost my drive to pursue that path. People suggested other healthcare fields, including chiropractic. The more I learned about the chiropractic profession and how it aims to put patients in control of their own healthcare, I immediately knew that this was the career path for me.
Listening to our patients and correctly diagnosing the root of their problems is integral to what we do as chiropractors, and I am excited to help my patients live their healthiest, happiest lives, whether that's through adjustments, patient education, soft tissue work, nutrition, or movement biomechanics. As a chiropractor, I can form relationships with my patients and I can help them take control of their own health and wellbeing, and to ultimately reach their goals, however big or small they may be.
Contact the office today at (920) 451-7000 to schedule an appointment!
---
Dr. Rachel Smith | (920) 451-7000